Everyone's heard of the 5 major organ systems, right? The Nervous System, Endocrine System, Cardiovascular System, Respiratory System, & Digestive System. Well this blog focuses on one you probably have never heard of, the Endocannabinoid System.
Have you heard of the Endocannabinoid System? First let's begin with the basics.
As a human being, you're generally aware that you have a Digestive system, Respiratory System, Nervous System, Cardiovascular System, and an Endocrine System.
Well, like these brilliant systems in our bodies, the Endocannabinoid System (ECS) intersects all these major organ systems and serves an equally vital role in the regulation of homeostasis in human's (and animal's). 
The ECS is an intricate signaling network that has been shown to work alongside the other systems in our body to allow for optimal body function. The regulation is done through agonizing and antagonizing the millions of CB1 & CB2 receptors throughout the body.
The ECS is responsible for regulating processes such as mood, appetite, energy intake, nutrient transport, metabolism, immune, nerve and bone function and has been shown to be an important factor in numerous disease states.
The system is activated and regulated by chemicals known as cannabinoids, which can be found either in our bodies as endocannabinoids, in the cannabis plant as phytocannabinoids, or made in labs as synthetic cannabinoids. Each phytocannabinoid has a different effect on CB1 and CB2 receptors which express different cascades of effects throughout the body.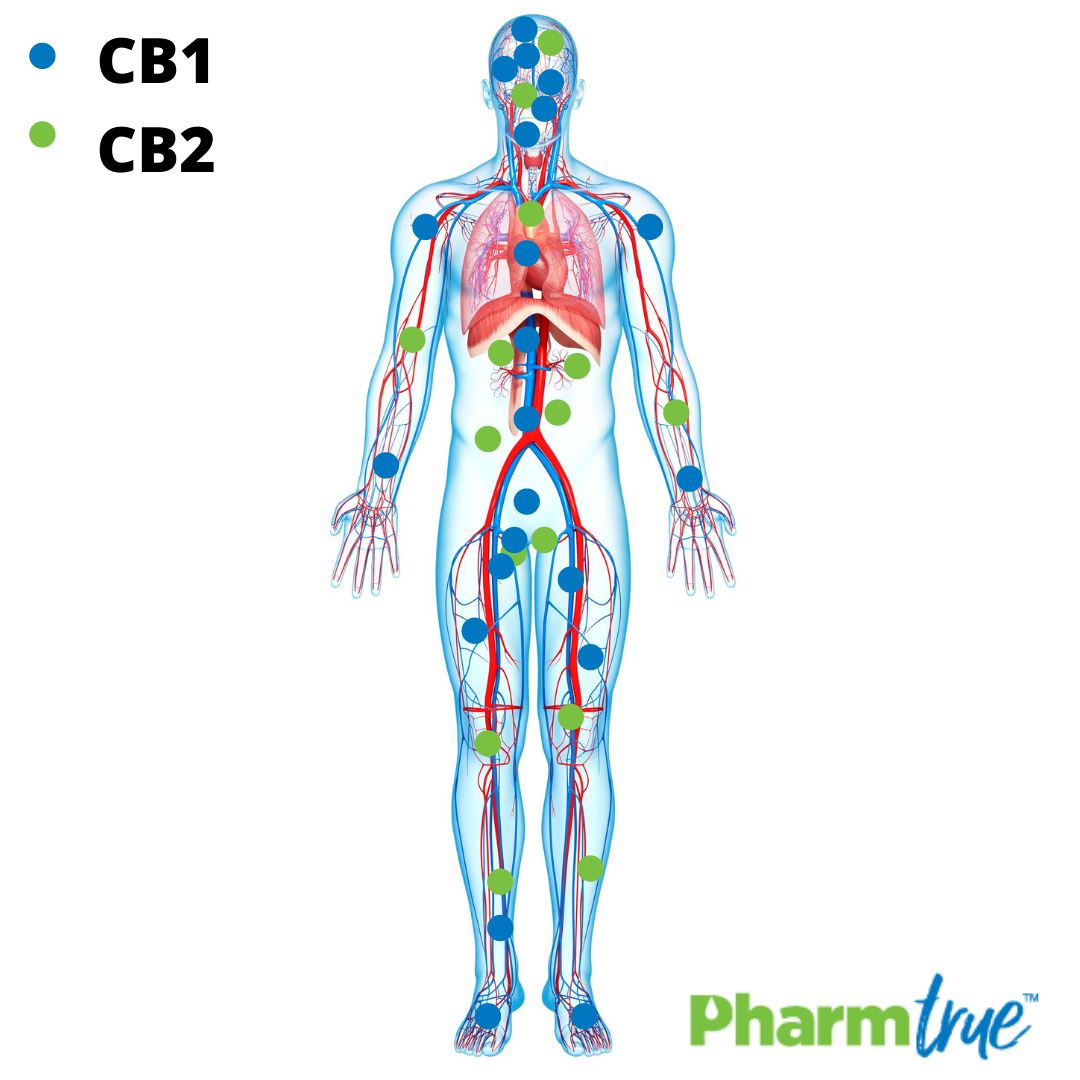 So how does this apply to you?
The Endocannabinoid System is natural and integral part of every day life. The functionality of your ECS plays a role in your mind and your body. CBD is a negative allosteric modulator at CB1 & CBD is a weak antagonist at CB2.
CBD is approved in a pharmaceutical drug, Epidiolex, to treat Dravet syndrome and Lennox-Gastaut syndrome as it has positive effects on this specific epilipesy management.
Mixes of clinical and anecdotal research also suggest CBD playing a role in chronic pain, inflammation, gastrointestinal, and mental health.
From the assistance of "phytocannabinoids" and synergistic ingredients formulated into our products, we can target problems such as inflammation and anxiety, making our plan of action to get through hard times a little easier. 
Here at Pharmtrue we pride ourselves on education of the ECS to ensure we deliver on informed expectations of our CBD products for the community.